How do I choose the right eyeglass frames?
---
Choosing the perfect pair of eyeglass frames is a unique experience, much like selecting the perfect accessory to complement your style. At Erin Ridge Vision Care, we understand that your eyewear not only enhances your vision but also becomes a reflection of your personality and individuality. From understanding your face shape to discovering the hues that complement your skin tone, we're here to help you make a confident choice that suits your lifestyle and showcases your unique style.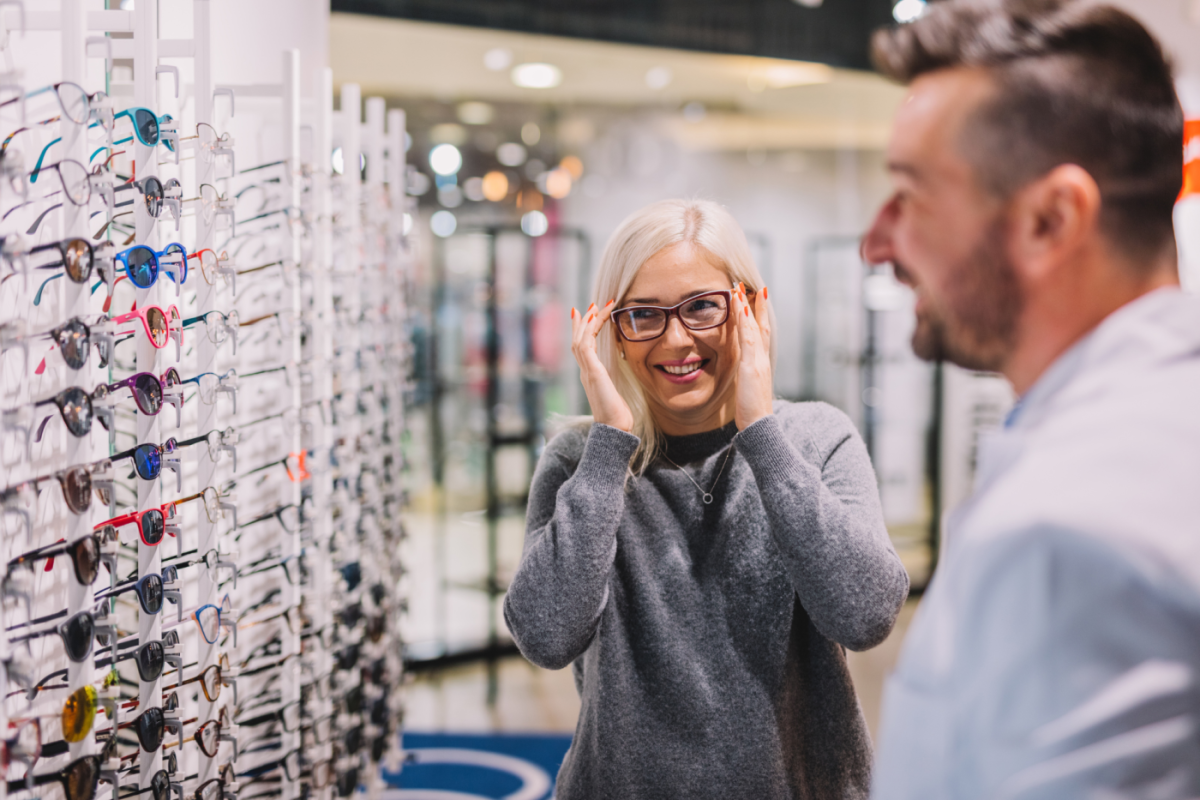 How do I determine the right eyeglass frames for my face shape?
Choosing the right eyeglass frames starts with understanding your face shape. Here's a simple guide to help you find frames that enhance your natural features:
Round face:

If your face is round, go for frames with strong angles and lines to add definition. Rectangular or square frames work well to create balance.

Oval face:

Lucky you! Oval faces can pull off a wide range of frame shapes. Look for frames that maintain your natural proportions without overwhelming your features.

Square face:

To soften the angles of a square face, opt for rounded or oval frames. These will complement your jawline and add a touch of gentleness.

Heart-shaped face:

Frames that are wider at the top and narrower at the bottom, such as cat-eye or aviator styles, can complement your face shape beautifully.

Diamond face:

Diamond-shaped faces can rock frames that emphasize the eyes. Consider oval or rimless frames to highlight your cheekbones.
Remember, the goal is to create balance and harmony between your frames and your face shape. Try different styles to see which one makes you feel confident and comfortable.
Which eyeglass frame colours complement my skin tone?
The right frame colour can enhance your complexion and make your eyeglasses a stylish accessory. Here's a quick guide:
Warm skin tones:

If you have warm undertones (yellow or peachy), earthy tones like brown, gold, or warm tortoiseshell can complement your skin beautifully.

Cool skin tones:

For cool undertones (pink or blue), frames in silver, black, cool gray, or shades of blue can be flattering.

Neutral skin tones:

Lucky neutral-toned folks can experiment with a wide range of colours, from classic black to unique and vibrant options.
Remember to consider your hair colour and eye colour when choosing frames, too. A great way to find the perfect colour is to try on various frames and see which ones make your features pop.
What factors should I consider for my glasses based on my lifestyle?
Your daily activities and lifestyle play a significant role in choosing the right eyeglass frames. Here's what to think about:
Work:

If you spend long hours in front of a computer, consider blue-light-blocking coatings. For active jobs, durable and lightweight frames may be a better choice.

Hobbies:

Your hobbies matter. If you're an outdoor enthusiast, consider sunglasses or photochromic lenses. Crafters may prefer lightweight frames that stay put.

Fashion:

Are you a trendsetter or prefer classic styles? Choose frames that align with your personal style and make you feel confident.

Comfort:

Prioritize comfort, especially if you wear your glasses all day. Adjustable nose pads, lightweight materials, and well-fitted frames are essential.

Maintenance:

Think about how easy it is to clean and maintain your frames. Some materials are more resilient than others.
How can I match eyeglass frames to my personality?
Your eyeglasses can be an extension of your personality and style. Here's how to make sure your frames reflect who you are:
Classic and professional:

If you prefer a timeless and refined look, opt for traditional shapes and neutral colours.

Bold and creative:

Express your creativity with unique frame shapes, vibrant colors, or even statement details like oversized frames.

Minimalist and understated:

If simplicity is your style, look for sleek and minimalistic designs in muted tones.

Adventurous and trendy:

Stay ahead of the fashion curve with the latest eyewear trends, from oversized frames to unique materials.

Elegant and chic:

Consider delicate, slim frames in metallic hues for a sophisticated touch.
Remember, your eyeglasses can change your entire look, so don't hesitate to explore different styles until you find the frames that resonate with your personality and make you feel your best.
As you embark on your journey to find the ideal eyeglass frames, remember that our team at Erin Ridge Vision Care is here to provide expert guidance and a wide selection of frames to choose from. Whether you're seeking a classic, timeless look or want to make a bold fashion statement, we have the frames to match your vision and style. Don't hesitate to visit our clinic, where our experienced opticians will assist you in finding frames that enhance your unique features and meet your lifestyle needs.
←Back